In response to God's direction and our community's need for a Christian high school, Grace Christian Academy opened in the fall of 2020. This year, GCA is excited to enroll incoming freshman, sophomores, and juniors . Based on our success in our first year, we are confident God will continue to bless our efforts. We are enthusiastic to serve more students and help them grow academically and spiritually.
Our Mission
The mission of GCA is to glorify God by equipping students with a spiritually and academically solid Christian worldview.
Purpose
Grace Christian Academy partners with Christian parents to provide a biblically integrated education which equips students to embrace biblical truth, to strive for academic excellence and to exemplify Christ-like servanthood in homes, churches and communities.
Statement of Faith
We believe the Scriptures of the Old and New Testaments to be the inspired, infallible, inerrant, authoritative and sufficient Word of God (2 Timothy 3:16-17; 2 Peter 1:20-21).
We believe that there is one God, eternally existent in three Persons: Father, Son, and Holy Spirit (Matthew 28:19; 2 Corinthians 13:14).
We believe in the deity and humanity of Christ, in His virgin birth, in His sinless life, in His miracles, in His vicarious and atoning death through His shed blood, in His bodily resurrection, in His ascension to the right hand of the Father, in His present rule as Head of the church and in His personal return in power and glory (Colossians 1:13-20; 1 Peter 3:22).
We believe that for the salvation of lost and sinful man, regeneration by the Holy Spirit is absolutely essential, and that this salvation is received through faith in Jesus Christ as Savior and Lord, repentance toward God, and not as a result of good works (Romans 3:23-26; Ephesians 2:8-9; Titus 3:5).
We believe in the present ministry of the Holy Spirit by whose indwelling the Christian is enabled to live a godly life and perform good works (Romans 8:9-11; Ephesians 2:10; Titus 2:12-14).
We believe in the resurrection of both the saved and the lost; those that are saved unto the resurrection of eternal life and those that are lost unto the resurrection of damnation (John 5:24-25, 28-29).
We believe in the spiritual unity of believers in our Lord Jesus Christ, with equality across racial, gender, and class differences (John 17:20-23; 1 Corinthians 12:12-13; Galatians 3:28).
Meet Dr. Chris Holmes - Our Head of School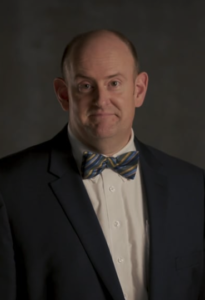 I was raised on a farm in Tennessee by faithful, Christian parents. At an early age, by God's grace, I repented of my sins and placed saving faith in Jesus Christ. My parents enrolled me in a private, Christian school at the age of nine, and I eventually graduated from that institution. During my college years, my convictions were challenged, and I was forced to search the Scriptures in order to grasp more fully the foundations of my beliefs. Though difficult, this was a particularly beneficial experience for me. Over the next few years, I met and married my wife, Beth, worked as an analytical chemist at an environmental testing laboratory in Nashville, and served my home congregation in various leadership roles. Sensing God's call to full-time Christian ministry, we moved to Louisville to attend Southern Seminary in 1999. During our time there I earned three degrees (master of divinity, master of theology, and doctor of philosophy) and learned to love teaching the Scriptures. In 2007, we moved to Owensboro, and I had the privilege of serving on the pastoral staff of Yellow Creek Baptist Church for thirteen years. In early 2020, I was asked to consider serving as the Head of School for Grace Christian Academy. Following a season of prayer and counsel, I accepted the role. I can testify that God has shown Himself utterly faithful each step of the way!