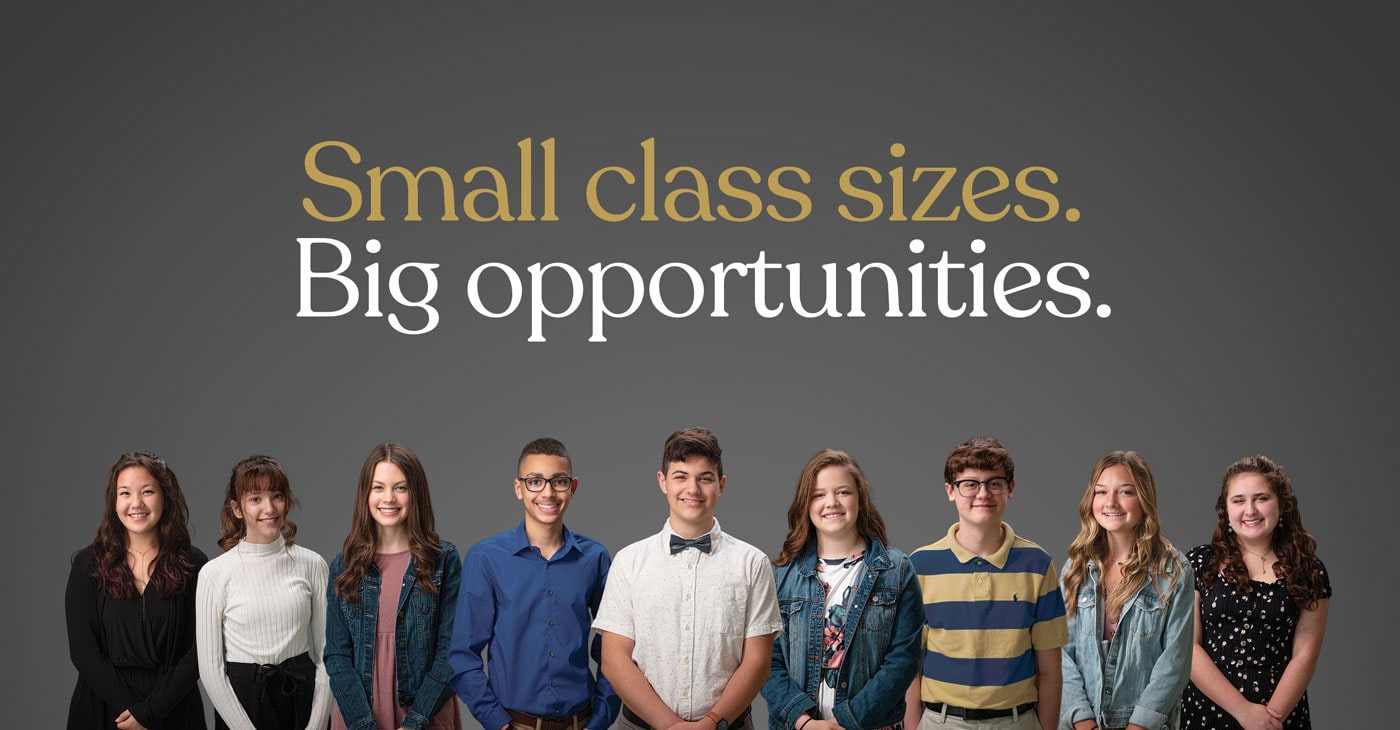 Grace Christian Academy is a High School which opened in the fall of 2020 in Owensboro, Kentucky.
Our mission is to glorify God by equipping students with a spiritually and academically solid Christian worldview. Would you like to know more? Contact us today.
---
Shadowing 
We encourage prospective students to "shadow" for a day at GCA. This allows them the opportunity to meet GCA students and faculty, to attend classes, have lunch together, and to share the overall GCA 
experience. Many prospective students and families have found shadowing to be very helpful as they evaluate their educational options and make decisions for the future. To arrange to shadow at GCA, simply contact the school office.
Admissions Process
Online Application Forms
Please complete all of the online documents for the admissions process.
Admissions Interview
A confidential interview with parent(s) and student will be scheduled to discuss enrollment upon completion of the applicant file.  View the Grace Christian Academy Family Handbook
Admissions Testing
Student placement assessments will be scheduled as needed upon completion of the applicant file.
Admissions Acceptance
Acceptance notification will be made as soon as possible following the admissions interview and testing. Confirmation of acceptance through payment of the non-refundable registration fee of $350 is required to reserve placement for the student.
Admissions Policy
Grace Christian Academy admits students of any race, color, national and ethnic origin to all the rights, privileges, programs, and activities generally accorded or made available at the school. It does not discriminate on the basis of race, color, national and ethnic origin in the administration of its educational policies, admissions policy, tuition assistance, and athletic and other school-administered programs.
---
Tuition and Fees
Tuition
GCA's tuition is $6,542 per year. Tuition can be paid monthly (ten payments), twice a year, or all at once through FACTS which provides our tuition management.
Enrollment Fee
When your student is accepted to GCA, a non-refundable enrollment fee of $350 will be collected to confirm your student's placement. This fee provides your student's textbooks and a Chromebook.
Tuition and Fees Policy
Tuition and fees are necessary for GCA to fulfill its mission. Accordingly, parents are expected to pay all financial obligations in a timely manner. Student records cannot be released and no credit for a student's work can be earned until all financial obligations are met.
Tuition Assistance
Tuition assistance is available to help families with the cost of Christian education at GCA. Families who desire to receive tuition assistance will share their basic financial information with the school. Awards apply only to the current school year and are based on the availability of tuition assistance funds. As long as classroom space and tuition assistance funds are available, GCA does not want to deny enrollment to any student solely on the basis of finances. GCA wants to work with families to make Christian education affordable.